COVID-19
COMMUNITY RESOURCES FOR COVID-19 RECOVERY
Questions? Contact me at chrismiller2019gop@gmail.com
NOTICE: "Stay at Home" order in effect in Illinois, essential services remain available. Grocery stores, pharmacies and gas stations will remain open throughout the pandemic. The order goes into effect March 21 and is extended through April 30.
EXECUTIVE ORDERS ISSUED BY GOVERNOR JB PRITZKER (FULL LIST). See the full list and link to the full text of every Executive Order issued by the Governor since January 1, 2020.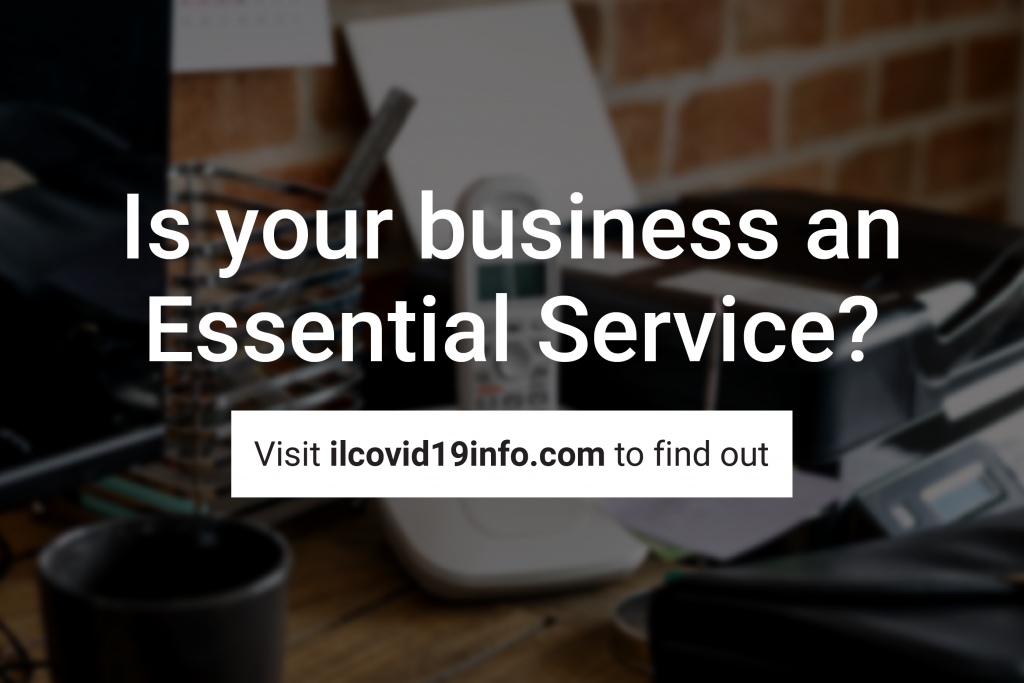 Where can business owners verify if their business is exempted from the Executive Order -10?
The Department of Commerce and Economic Development will be answering questions regarding SBA loans and providing guidance for whether a business is deemed essential under EO-10. Please direct questions to 1-800-252-2923 or CEO.support@illinois.gov. DCEO has also put together a list of Frequently Asked Questions and Answers about Essential Businesses and operations here.
COVID-19 RECOVERY RESOURCES
ECONOMIC ASSISTANCE TO FAMILIES
MEDICAID – The Governor is suspending the annual renewal process for Medicaid recipients; fast tracking Medicaid enrollment; guaranteeing covered costs for COVID-19 treatment for the uninsured; and the State of Illinois is requesting waivers to allow doctors to offer Medicaid care without waiting for approval.
Unemployment benefits may be available to some individuals whose unemployment is attributable to COVID-19. IDES recently adopted emergency rules to try to make the unemployment insurance system as responsive to the current situation as possible. Learn more here.
A list of frequently asked questions and answers has been compiled by my office here.
YOU ASKED, SO WE GOT ANSWERS— What actions are taken to address the high volume of calls at IDES claims services line?
IDES hired additional staff and expanded their business hours to vulture the extremely high volume of calls. The caller is advised to try their call again if they get a busy signal. When the call gets through, there will be an average wait of 20-30 minutes before they speak to a specialist. To date, the department has taken several steps to improve the unemployment benefit claims process via the online portal and the call center.
The website has been moved to new hardware infrastructure to handle the increased demand
Web, storage, and processing capacity has been increased to meet needs of increased traffic
Methods have been implemented to track COVID-19-related claims
Call center capacity has been increased
Daily call center hours have been extended to respond to those waiting in the queue after closure
Call center staff has been supplemented by 40% to cut down on wait times
Both the website and the call center will continue to be monitored for improvements in functions and abilities
In addition to these measures, IDES is now asking individuals to adhere to an alphabetized schedule when filing an unemployment benefit claim online and over the phone. This process mirrors other states, such as Colorado and New York, who are experiencing increased web traffic and high call volumes with their unemployment benefit systems.
Online Filing Schedule:
Those with last names beginning with letters A-M will be asked to file their claims on Sundays, Tuesdays, or Thursdays.
Those with last names beginning with letters N-Z will be asked to file their claims on Mondays, Wednesday, Fridays.
Saturdays will be available for anyone to accommodate those who could not file during their allotted window.
Call Center Filing Schedule:
Those with last names beginning with letters A-M will be asked to call on Tuesdays and Thursdays between 7:30am – 6pm.
Those with last names beginning with letters N-Z will be asked to call on Mondays and Wednesdays between 7:30am – 6pm.
Fridays (7:30am – 6pm) will be available for anyone to accommodate those who could not file during their allotted window.
The day or time of day in which a claim is filed will not impact whether you receive benefits or your benefit amount. Additionally, claims will be back-dated to reflect the date in which a claimant was laid-off or let go from their job due to COVID-19.
IDES is currently working through an unparalleled number of unemployment benefit claims and questions, both online and through the call center. Over the first three weeks of March, IDES has received over 130,000 unemployment benefit claims, an increase of close to 400% compared to the corresponding weeks the prior year. The department received close to 115,000 claims for the week of March 21 alone, an increase of nearly 1,400% compared to the corresponding week the prior year. Additionally, the call center continues to field hundreds of calls per minute, per day.
IDES is doing everything possible to support our customers and meet the demand for unemployment benefit inquiries and claims. Those with questions or in need of assistance with unemployment benefit at this time are encouraged to visit IDES.Illinois.gov.
YOU ASKED, SO WE GOT ANSWERS— If a business decides to shut down voluntarily before mandated, will staff be able to qualify for unemployment? And does this go against the employer if they do so? If a business decides to shut down, employees would be potentially eligible for benefits and are advised to open a claim as soon as possible. IDES is working with the Governor's office on legislation that would remove charge ability to employers for claims involving COVID-19 related issues.
FEDERAL STIMULUS PACKAGE IMPACT ON UNEMPLOYMENT (NEW ON APRIL 1, 2020)
The federal government recently enacted legislation to address the dramatic economic crisis brought on by COVID-19, including an unemployment benefits expansion. While this will financially help unemployed Illinoisans in the months to come, not everyone will be eligible for all the benefits contained in the package, and some benefits will not begin immediately.
Please note, IDES is asking employees potentially covered under this expansion to NOT call to inquire about these new federal programs. IDES employees are processing applications for current benefits. Further details about the new federal programs and how to apply will be made available once they have been finalized.
How will this affect Illinois unemployment benefits?
Once the stimulus package has been implemented in Illinois, individuals receiving unemployment benefits will receive an additional $600 each week above what they would receive in regular unemployment benefits until July 31, 2020. This will not be retroactively applied to unemployment benefits received in the past. In many cases, individuals will also be eligible for more weeks of unemployment above the 26 weeks provided under regular unemployment rules. Both of these benefits will be applied automatically if you qualify.
What do I do if I have already received my maximum benefits?
Some individuals who have received their entire 26 weeks of regular unemployment benefits may be eligible for more weeks of benefits under the stimulus package. If you have exhausted your benefits, or you are close to exhausting your benefits, we are finalizing the process to continue benefits under the stimulus package. Details will be available as soon as we have received further guidance from the US Department of Labor.

I am self-employed. Do I qualify under the new federal unemployment program?
Under regular unemployment rules, the incomes of self-employed workers, freelancers, and independent contractors are not subject to unemployment taxes and so typically these individuals are not eligible for unemployment benefits. The stimulus package creates a new, temporary program to help people who lose this type of work as a direct result of the current public health emergency. IDES will provide information about how to apply for this benefit as soon as it is finalized. Please do not apply at this time.
Thank you for waiting to apply until further details are available. This will allow IDES employees to address the large volume of claims for those individuals who are eligible under current benefit programs.
HOUSING
The Governor has ordered all state, county and local law enforcement cease enforcement of orders of eviction during the duration of the Gubernatorial Disaster Proclamation. Individuals are still required by law to pay rent and mortgage payments and to comply with other obligations under tenancy or mortgage.
USDA Rural Housing Service UPDATE 03-25-20
Single-Family Housing– Effective March 19, borrowers with USDA single-family housing Direct and Guaranteed loans are subject to a moratorium on foreclosure and eviction for a period of 60 days. This action applies to the initiation of foreclosures and evictions and to the completion of foreclosures and evictions in process.

Guaranteed Loan Program: Guaranteed Loan borrowers who are in default or facing imminent default due to a documented hardship can have payments reduced or suspended by their lender for a period not to exceed 12 months delinquency. Once the hardship is resolved, the lender can modify the loan to cure the delinquency or make up the missed payments based on the borrower's individual circumstances. Guaranteed Loan servicing questions should be directed to: Program@usda.gov.
Direct Loan Program: USDA has waived or relaxed certain parts of the application process for Single-Family Housing Direct Loans, including site assessments, and has extended the time period that certificates of eligibility are valid. A Direct Loan borrower who is experiencing a reduction of income by more than 10 percent can request a Payment Assistance package to see if he/she is eligible for payment assistance or for more assistance than currently received. Moratorium Assistance is available for Direct Loan borrowers experiencing medical bill expenses (not covered by insurance) or job loss because of COVID-19. Qualifying borrowers can receive a moratorium on house payments for a period of time, repaid at a later date. Direct Loan questions should be directed to USDA's Customer Service Center at 800-414-1226 (7:00 a.m.-5:00 p.m. Eastern Time Monday-Friday). Call volume and wait times are high at this time.

Multi-Family Housing. Multi-Family Housing is taking several steps to help owners, management agents and tenants maintain quality housing during the COVID-19 outbreak. Specifically, three immediate steps are effective for Section 515 Multi-Family properties:

Tenant certifications due March 31, April 30 and May 31 for Multi-Family properties have been extended to June 30 with no late fees or overage charges, as allowed in Multi-Family guidance (HB-3-3560, Chapter 4, Section 4.11). This extension will allow for additional time to complete needed certifications while avoiding face-to-face meetings as recommended by the Centers for Disease Control and Prevention (CDC).
Late fees on Section 515 mortgages will be waived, subject to waiver authority in 7 CFR 3560.403 (c)(3).
Section 515 Annual Financial Statements due March 31 will be extended 30 days, as per Multi-Family guidance (HB-2-3560 Chapter 4, Section 4.16-H). USDA is exploring whether a longer extension is appropriate and will provide further guidance.
Current policy states that owners must process an interim recertification at the tenant's request if there is a change in income of $50 or more per month. The owner should already have this policy in writing and apply it consistently. To the maximum extent possible, we encourage all owners to work with all tenants with impacted income to adjust rent payments.
USDA encourages all owners to work with impacted residents and families to adjust rent payments, enter into forbearance agreements, and lessen the impact on affected residents. At this time, no additional subsidy funding has been made available. If borrowers are temporarily unable to make loan payments, the Agency may waive late fees and enter into an official workout plan.
The Arts Illinois Relief Fund
The Governor announced that a new fund was created to support Illinois artists during this tumultuous time. The Arts Illinois Relief Fund is a relief fund to support artists and artisans. Initial donations allow for $4 million in grants for non-profit programs, individual artists, and performers.
JOBS (NOW HIRING)
Job Openings and resources compiled by the Illinois House Republican Caucus.
Who's Hiring list from the Illinois Retail Merchants Association. Illinois grocers throughout the state are looking to hire. Simply click on the name of the grocer and submit an application. Many are hiring on-the-spot.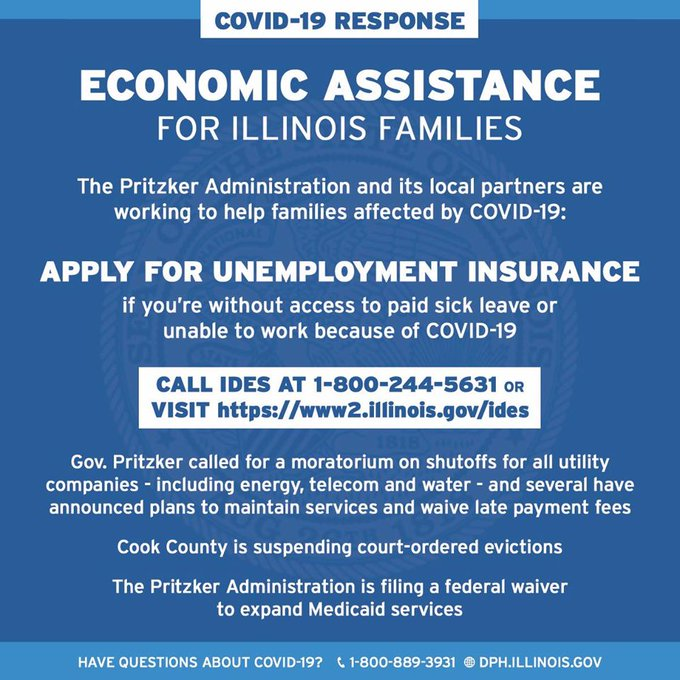 ILLINOIS INCOME TAX DAY POSTPONED
The Illinois Department of Revenue (IDOR) is following the federal government in providing special tax filing and payment relief to individuals and businesses in response to the COVID-19 Outbreak. The filing deadline for Illinois income tax returns has been extended from April 15, 2020, to July 15, 2020. More information can be found here.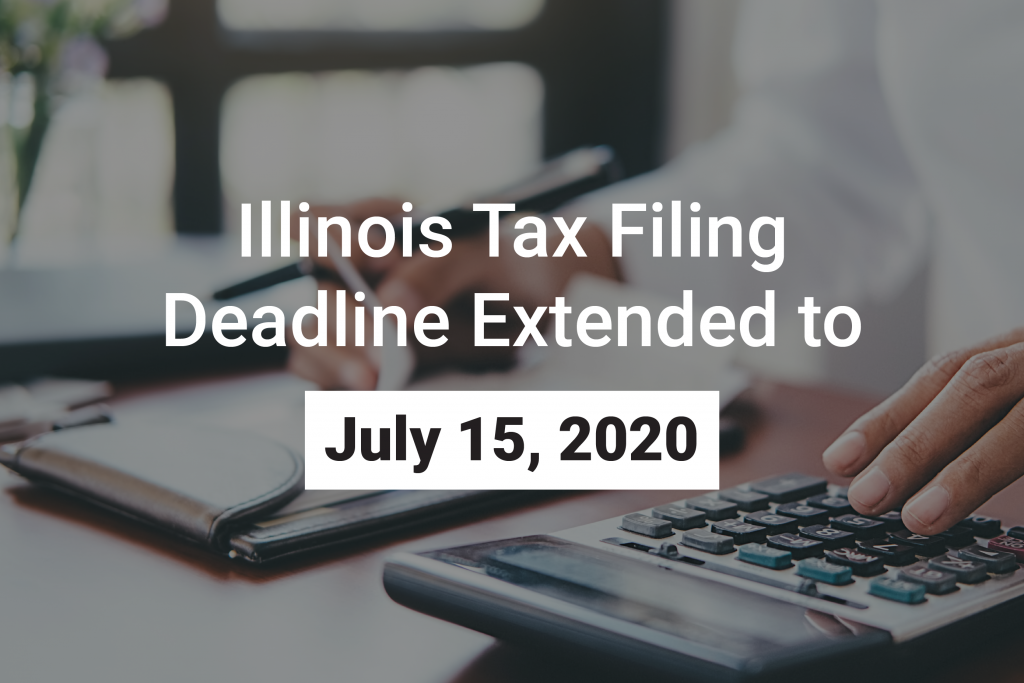 FEDERAL INCOME TAX DAY POSTPONED
U.S. Treasury Secretary Steve Mnuchin announced on March 20 that Federal Income Tax Day has been moved from April 15 this year to July 15. All taxpayers and businesses will have this additional time to file and make payments without interest or penalty. Taxpayers may still file at any point prior to July 15, an action which is especially encouraged if the taxpayer is due a refund to allow the taxpayer to get their money more quickly.
FAMILIES FIRST CORONAVIRUS RESPONSE ACT (SIGNED INTO LAW BY PRESIDENT TRUMP ON MARCH 18, 2020)
The Emergency Family and Medical Leave Expansion Act
The EFMLEA amends the Family and Medical Leave Act of 1993 (FMLA) to provide up to 10 weeks of protected paid leave to eligible employees for a coronavirus related reason. This includes staying home from work because of the coronavirus, caring for a close family member under quarantine (or isolation) or caring for a minor child who cannot go to school or daycare because of a public health emergency caused by the coronavirus. The FMLA provides 12 weeks of protected leave, but it's unpaid. Under the EFMLEA, the first two weeks remain unpaid, but for the next 10 weeks, eligible employees (those who have been employed with the employer for at least 30 calendar days) will receive two-thirds pay while on leave. If an employee has any paid personal, sick, medical or sick days, they can use those paid leave days during the 14 days of unpaid leave under the EFMLEA. The EFMLEA's requirements only apply to employers with fewer than 500 employees and its benefits are only in effect until December 31, 2020. Because the EFMLEA simply adds provisions to the FMLA, the rights provided to employees under the FMLA, such as enforcement and a prohibition on retaliation, should apply to the EFMLEA. An important final point to make about the EFMLEA concerns small business employers. The EFMLEA technically applies to businesses with fewer than 50 employees. However, the EFMLEA has a special provision that gives the Department of Labor explicit authority to create regulations that would: "exempt small businesses with fewer than 50 employees from the requirements of [the EFMLEA] when the imposition of such requirements would jeopardize the viability of the business as a going concern." This means that it's likely that many American workers who desperately need paid leave, such as service workers at restaurants that are subject to franchise agreements, may not receive EFMLEA paid leave benefits yet until further federal action is taken.
The Emergency Paid Sick Leave Act The EPSLA is the second law contained in the FFCRA that provides paid leave. Specifically, it provides full-time employees up to 80 hours (two weeks) of paid sick leave for basically the same coronavirus related reasons as outlined in the EFMLEA. Part-time employees can also receive paid sick leave, but it will be limited to the average number of hours that the employee works over a two week period. The amount of leave pay will be equal to the employee's regular rate of compensation, unless the employee is caring for a child or family member affected by the coronavirus. In that case, it will be two-thirds of the employee's regular pay. The EPSLA also has provisions barring employers from discriminating in any way against an employee who takes advantage of benefits provided by the EPLSA. Employers are also prohibited from retaliating against an employee who files a complaint or initiates a proceeding under the EPSLA. If an employer violates the EPSLA, it will be subject to penalties as outlined by Sections 16 and 17 (29 U.S.C. § 216-217) of the Fair Labor Standards Act (FLSA). This includes fines, imprisonment, damages to the employee amounting to double the unpaid wages and reasonable attorney's fees and court costs. The EPSLA is similar to the EFMLEA in that it exempts employers with 500 or more employees and expires on December 31, 2020. However, the EPSLA's paid sick leave benefits will apply to most government employees. What's also interesting about the EPSLA is that it doesn't have a provision directly telling the Department of Labor to create regulations that would exempt small businesses, such as those with fewer than 50 employees. So it's possible that the EPLSA may provide benefits that cover far more employees than the EFMLEA.
Employer Tax Credits Refundable credits for the employer portion (but not the employee portion) of the Old-Age, Survivors, and Disability Insurance (OASDI) component of payroll taxes (i.e., the 6.2 percent employer portion of the Social Security tax) will be provided to employers to cover wages paid to employees for time off under the above sick leave and family leave programs.
ASSISTANCE TO EMPLOYERS
The US Small Business Administration has a COVID-19 Resources site here. The SBA will work directly with state Governors to provide targeted, low-interest loans to small businesses and non-profits that have been severely impacted by the Coronavirus (COVID-19). The SBA's Economic Injury Disaster Loan program provides small businesses with working capital loans of up to $2 million that can provide vital economic support to small businesses to help overcome the temporary loss of revenue they are experiencing. These loans may be used to pay fixed debts, payroll, accounts payable and other bills that can't be paid because of the disaster's impact.
The U.S. Small Business Administration has already approved Illinois' eligibility for disaster assistance loans for small businesses facing financial hardship in all 102 counties due to COVID-19. Eligible businesses can apply for up to $2 million in low-interest loans here.
Business advisors at our Illinois Small Business Development Centers (SBDCs) are available to assist small businesses with the loan application process and are currently operating remotely. Businesses can locate their nearest Small Business Development Center here.
TAX CREDITS TO EMPLOYERS FOR PAID SICK AND PAID FAMILY MEDICAL LEAVE Subject to certain limits, in the case of an employer, there shall be allowed as a credit an amount equal to 100 percent of the qualified sick leave wages and qualified family leave wages paid by the employer with respect to the calendar quarter.
SALES TAX DEFERRAL FOR BARS & RESTAURANTS The Illinois Department of Revenue will defer sales tax payments for more than 24,000 small and medium sized bars and restaurants- accounting for nearly 80% of all such entities statewide. Establishments charged less than $75,000 in total sales tax liability last year will not be charged penalties or interest on payments due in March, April or May made late. Qualified taxpayers must still file their sales tax return on time, even if they are unable to make a payment. Informational Bulletin with more on this here.
PAYCHECK PROTECTION PROGRAM
Creates forgivable SBA loans administered through local banks
Helps small businesses, non-profits, independent contractors, and self-employed
Limited to under 500 employees
Maximum loan of $10 million
Business must good-faith certify that funds are needed for COVID-19 related purposes and funds will be used to retain workers
Eligible expenses include payroll (including for tipped workers), insurance, rent, mortgage, and utilities
Amount spent by borrower in the first 8 weeks from loan origination may be forgiven; amount reduced proportionate to reductions in workforce as compared to previous year; if rehires made during 8 week period, no penalty in reflection of possible layoffs early in the 8 week period
Anything not forgiven or repaid by 12/31/20 will convert to a max 10 year loan at a max 4% interest rate; loan will remain 100% guaranteed
More information will be made available upon passage of the $2 trillion federal stimulus and coronavirus relief package
FEDERAL CARES ACT
What does it mean to Illinoisans? Congress approved and the President has signed the Coronavirus Aid, Relief, and Economic Security Act (CARES). The $2.2 trillion economic rescue package provides help for families, small business, hospitals, local governments and others. A brief outline of the CARES Act can be found here.
GRANTS
Illinois Hospitality Emergency Grant Program
$14 million total program to provide working capital grants to small businesses
Grants available to hotels, bars, and restaurants ($10k, $25k, and $50k levels)
Must apply by April 1, 2020
Selections made via lottery
Downstate Illinois Small Business Stabilization Program
$20 million total program for working capital grants
Offers $25k grants to employers up to 50 employees
Funds available in collaboration with local governments that do not receive direct CDBG allocations
Large urban communities are not eligible for this program. These communities will likely receive increased direct federal funding.
LOANS
Illinois Small Business Emergency Loan Fund
Low interest loans to small businesses up to $50,000
Must be located outside of Chicago
Eligible businesses have fewer than 50 employees and less than $3 million in 2019 revenue
5 year repayment period with no payments due for the first 6 months
Applications available beginning April 1, 2020
"Business Invest" Low Interest Bridge Loans backed by State Treasury
Illinois small businesses can tap into $250 million in low-interest bridge loans as soon as this week to help push through the COVID-19 pandemic.
The State Treasurer's office will make $250 million available to Illinois banks and credit unions that wish to participate. The financial institutions will determine who is eligible for the loans. Here is the current list of approved financial institutions providing loans.
Through this program, the Treasurer's Office would partner with approved financial institutions to provide loans — either lower rate loans, or loans to a business or non-profit that would not otherwise qualify — to Illinois small businesses impacted by the COVID-19 pandemic.
State funds would be deposited with qualified financial institutions for a 1-year term at a near-zero deposit rate of 0.01% (0.0001).
Deposits could be drawn in $1 or $5 million increments, up to a maximum of $25 million per financial institution.
Deposited funds would facilitate affordable loans (not to exceed 4.75%) to small businesses and non-profits that could be used to provide bridge funding, pay fixed debts, payroll, accounts payable and other bills.
Eligible Illinois businesses or non-profits must: (1) have been shut down or limited due to COVID-19; (2) have less than $1 million in liquid assets or $8 million average annual receipts (per SBA standards); and (3) be headquartered in the state of Illinois or agree to use the funds in Illinois.
Deposits would be renewable as determined by the Treasurer's Office.
Financial institutions would be required to provide reports to the Treasurer's Office regarding the usage of program funds, including the number and types of loans provided and the economic impact of such loans.
PUBLIC HEALTH
Governor Issues Disaster Proclamation. JB Pritzker, Governor of the State of Illinois, in the interest of aiding the people of Illinois and the local governments responsible for ensuring public health and safety issued a Gubernatorial Disaster Proclamation this week in response to the ongoing Coronavirus (COVID-19) situation.
This proclamation will assist Illinois agencies in coordinating State and Federal resources, including the Strategic National Stockpile of medicines and protective equipment, to support local governments in preparation for any action that may be necessary related to the potential impact of COVID-19 in the State of Illinois.
For information about how you, your school, workplace, and community can prepare, please visit Preventing COVID-19 Spread in Communities. For general questions about COVID-19, call the hotline at 1-800-889-3931 or email dph.sick@illinois.gov.
FOOD SECURITY
SNAP & WIC – The Illinois Department of Human Services is submitting multiple waivers to the federal government to deliver as much nutrition support to as many Illinoisans as possible. DHS has been able to automatically extend SNAP certifications set to expire March, April or May, another six months until September, October and November. DHS has also been able to waive the physical presence requirements for SNAP applicants and participants, enabling people to further reduce the time that they spend outside their homes and increase the ability to apply for assistance online.

DHS Director Hou indicated that the recent passage of the federal Family First legislation will cause monthly SNAP benefits to increase dramatically – in some cases by over 90%, a month. For example, a single person with a disability, or an older adult with less than $2,000 of monthly income is eligible for $194 in monthly SNAP benefits. Now, before the legislation passed, they would have received $16 a month. A family of four making less than $42,000 a year is now eligible for $646 a month in SNAP benefits.
UTILITIES
FREE INTERNET ACCESS RESOURCES. The Illinois State Board of Education (ISBE) is providing information on programs offering free internet access to Illinois families to support learning during the school closures. Information on these resources can be found at ISBE's Keep Learning website.
AMEREN ILLINOIS. In response to the economic hardships that residential and business customers may experience due to the COVID-19 pandemic, Ameren Illinois will suspend service disconnections and forgive late payment fees for non-payment through at least May 1, 2020. Customers needing assistance with paying their bill should contact their customer care team at http://spr.ly/amerenillinois for payment options.
NICOR: In response to the economic hardships that residential and business customers may experience due to the COVID-19 pandemic, Nicor Gas will suspend service disconnections until April 30 for residential and commercial customers. Customers needing assistance with paying their bill should contact their customer care team for payment and energy assistance options as well as information about the Nicor Gas Sharing Program (one-time grants to qualified residential customers)..
AT&T: All AT&T consumer home internet wireline customers, as well as Fixed Wireless Internet, can use unlimited internet data. Additionally, we'll continue to offer internet access for qualifying limited income households at $10 a month through our Access from AT&T program. We've expanded eligibility to Access from AT&T to households participating in the National School Lunch Program and Head Start. Additionally, we're offering new Access from AT&T customers two months of free service.
CITY OF MATTOON: Due to recent events concerning the spread of Coronavirus, the City of Mattoon is suspending utility shut offs for nonpayment of water and sewer bills. Late payment fees will also be waived during this time. Water and Sewer customers will still owe for their usage and payment arrangements for all unpaid bills will be made at a later date.

In addition, the City will no longer accept payments directly from its customers at the Finance Office at City Hall. The options for payment are online, by phone (844-701-1148, which is printed on all bills), by mail, or by using the drop box on the north side of City Hall. Customers are encouraged to set up automatic payments by bank draft. Those wishing to set up Water and Sewer service should contact the Finance Department by phone at (217) 235-5483.
CONSOLIDATED COMMUNICATIONS: Joins other major carriers throughout the nation and pledges to Keep Americans Connected during this pandemic event. Consolidated Communications will ensure that all residential or small business customers maintain continuity of voice and data connectivity regardless of their ability to pay their bills due to disruptions caused by the coronavirus pandemic; waive any late fees that any residential or small business customers incur because of their economic circumstances related to the coronavirus pandemic; and open its Wi-Fi hotspots to anyone who needs them.
MEDIACOM. In an effort to keep customers safe during the coronavirus pandemic, Mediacom will be placing a moratorium and discontinuing service shut offs and late fees for 60 days. Reduced cost to low-income families during COVID-19 pandemic. Low-income families in the Mediacom service area can sign up for 12 months of their Access Internet 60 Broadband service for $19.99/month instead of $29.99/month with 60 days of complimentary Connect2Compete service. Also, Mediacom is increasing Internet speeds for the Internet Essentials service from 10/1 Mbps to 25/3 Mbps their low-cost internet program. Complementary access to all Madiacom Xtream Wi-Fi Hotspots will be offered for at least 60 days.
HOW TO HELP/ CALLS TO ACTION
Please submit any community Calls to Action or opportunities for help via e-mail to chrismiller2019gop@gmail.com.
RETIRED HEALTHCARE WORKERS. On March 21, the Governor announced a call to action in the fight against COVID-19 for anyone working in the healthcare related field who has let their licenses lapse or chose to retire. He is calling on physicians, nurses, physicians' assistants, and respiratory therapists to come back and join the fight against this outbreak. To make this process easier the Governor will be implementing the following actions in the very near future: Waving fees and expediting licensure for healthcare positions; Automatically extending licenses soon to expire; Making it easier for out-of-state healthcare professionals to practice here, that way border communities can deploy physicians where they are needed most. Applications available online at IDFPR's website include: Health Care License Reinstatement Physician License Reinstatement Out of State Temporary Practice Permit
P PERSONAL PROTECTIVE EQUIPMENT (PPE). During this unprecedented public health emergency, supplies of PPE for healthcare providers are being rapidly depleted. Health care personnel need to protect themselves when caring for patients by adhering to infection control and prevention practices, which includes having access to a sufficient supply of PPE. On March 17, IDPH provided guidance to hospitals, outpatient surgical and procedural centers to limit non-essential adult elective surgical procedures, including all dental procedures until further notice. IDPH is encouraging all outpatient surgical and procedural centers, ambulatory surgical centers, and veterinarians to donate their unused PPE that is not immediately needed to assist those on the frontlines in the fight against COVID-19. Especially of need are surgical gloves, gowns, goggles, face shields, surgical masks, and N95 respirator masks. To donate PPE, please e-mail PPE.donations@illinois.gov. In addition, the Illinois Biotechnology Innovation Organization (iBIO), working with the State, has established a fund so people and organizations can donate money to help healthcare workers and first responders here.
PPE AND CRITICAL SUPPLIES PROCUREMENT. With Illinois well-positioned with in-state manufacturers of diverse goods and services, leads or connections on COVID-19–related goods or services (i.e. PPE) can be sent to the State for maintaining elements of the critical supplies supply chain. Businesses interested in supplying the necessary goods/needs for the current crisis, can contact the Governor's Office related to these offers of products at Covid.procurement@illinois.gov. If a business wants to retool to manufacture PPE in Illinois, they may also contact the Illinois Manufacturing Association at ima@ima-net.org.
BLOOD SUPPLY
AMERICAN RED CROSS. The Red Cross urges healthy individuals to give blood amid coronavirus concerns. Low donor turnout could hurt U.S. Blood supply. Learn more and schedule an appointment at their Effingham Center, if you're feeling healthy and well, here.
MISSISSIPPI VALLEY REGIONAL BLOOD CENTER. The Mississippi Valley Regional Blood Center urges healthy individuals to give blood amid coronavirus concerns. Low donor turnout could hurt U.S. Blood supply. Learn more and schedule an appointment at their Mattoon Center, if you're feeling healthy and well, here.
MORE ON STATE OF ILLINOIS RESPONSE TO COVID-19
PUBLIC HEALTH
Governor Issues Disaster Proclamation. JB Pritzker, Governor of the State of Illinois, in the interest of aiding the people of Illinois and the local governments responsible for ensuring public health and safety issued a Gubernatorial Disaster Proclamation this week in response to the ongoing Coronavirus (COVID-19) situation.
This proclamation will assist Illinois agencies in coordinating State and Federal resources, including the Strategic National Stockpile of medicines and protective equipment, to support local governments in preparation for any action that may be necessary related to the potential impact of COVID-19 in the State of Illinois.
For information about how you, your school, workplace, and community can prepare, please visit Preventing COVID-19 Spread in Communities. For general questions about COVID-19, call the hotline at 1-800-889-3931 or email dph.sick@illinois.gov.
COMMUNITY EVENTS
The CDC guidelines prohibit social gatherings of more than ten people until at least April 30. An Illinois Executive Order prohibits any gathering of more than ten people, with limited exceptions, until at least April 30.
RELIGIOUS SERVICES
The Executive Order does not prohibit religious activities and specifically allows religious organizations to provide food, shelter, and social services, and other necessities of life, to its congregants and needy individuals.
Religious organizations are permitted to conduct services and prayer online and may conduct sufficient operations to offer a streaming service as long as social distancing requirements are followed. Please refer to DPH updated guidelines
SCHOOLS
To further safeguard our communities from the spread of the virus, Governor JB Pritzker has declared mandatory school closures for all schools, both public and private, serving Illinois pre-kindergarten through 12thgrade students.  
This mandatory closure takes effect March 17. Currently, the Illinois State Board of Education anticipates the closure to last through at least April 30.
ISBE has obtained the USDA waiver to provide meals during school closures, including to children under 5. ISBE encourages schools to please make every effort to provide meals for all children who need them, no matter their resources and no matter what school they attend, in the way that works best for your community, such as grab-and-go or delivery. 
The State Superintendent has declared that Remote Learning Days will begin for schools statewide on March 31 and continue until in-person instruction can resume. During Remote Learning days, schools may implement either an E-Learning Plan or a Remote Learning Day Plan that provides students with instruction and access to educators through whatever means possible. Schools may use up to five Remote Learning Planning Days at any time after March 30 to work on Remote Learning Day Plans in partnership with their collective bargaining units. 
Remote Learning Days, Remote Learning Planning Days, and Act of God Days count as actual student attendance days. All of these days count toward the minimum length of the school year and absolutely do not need to be made up. View ISBE's Guidance for Remote Learning Days here.
School districts have flexibility on how instruction will be graded during the public health disaster.
ISBE has partnered with other agencies and advocates to provide additional clarity on other key topics.  
Additionally, Governor JB Pritzker's Executive Order 2020-15 (ISSUED ON MAR 27, 2020), suspends state assessments for spring 2020, including the Constitution exam. This action officially ends assessment activity statewide for the Illinois Assessment of Readiness, Illinois Science Assessment, SAT, and Dynamic Learning Maps-Alternate Assessment for the 2019-20 school year. ISBE recognizes that the free SAT provided by the state is the only opportunity many students get to take a college entrance exam. ISBE is working with the College Board on developing options to allow current 11th grade students to take the SAT in the fall.  
ISBE has refreshed its comprehensive guidance document with all of this information, as well as updated guidance on driver's education, nutrition, flexibility in expending grant funds, and Early Childhood Block Grant recipients providing child care to the children of essential workers. View the comprehensive guidance at www.isbe.net/Documents/FAQ-3-27-20.pdf 
CHILD CARE CENTERS & EARLY EDUCATION PROGRAMS
Per Governor Pritzker's Executive Order on March 20, 2020, all child care programs are closed. Where possible, children should be kept at home. However, we know that is not an option for some of our essential workers.
The Governor's Office of Early Childhood Development, in partnership with IDHS and IDCFS, has established a structure and system for child care providers to apply for an emergency child care license to provide care for children of essential workers.
The Governor's Office of Early Childhood Development put together a resources website with the most up to date information for child care centers assisting with care for children of essential workers. This site will be updated regularly with the latest programs and resources in the coming days and weeks.
Find frequently asked questions and answers following the Mandatory Closure of All Child Care Centers and Homes here.
Essential workers looking for emergency child care during the school/day care closure period are encouraged to contact the Child Care Resource and Referral Agencies (CCR&Rs) Hotline 888-228-1146. This helpline will be available from 9:00AM to 3:00PM Monday through Friday to answer calls, but callers are able to leave a message 24 hours a day. There is also a Emergency Provider Search website live here.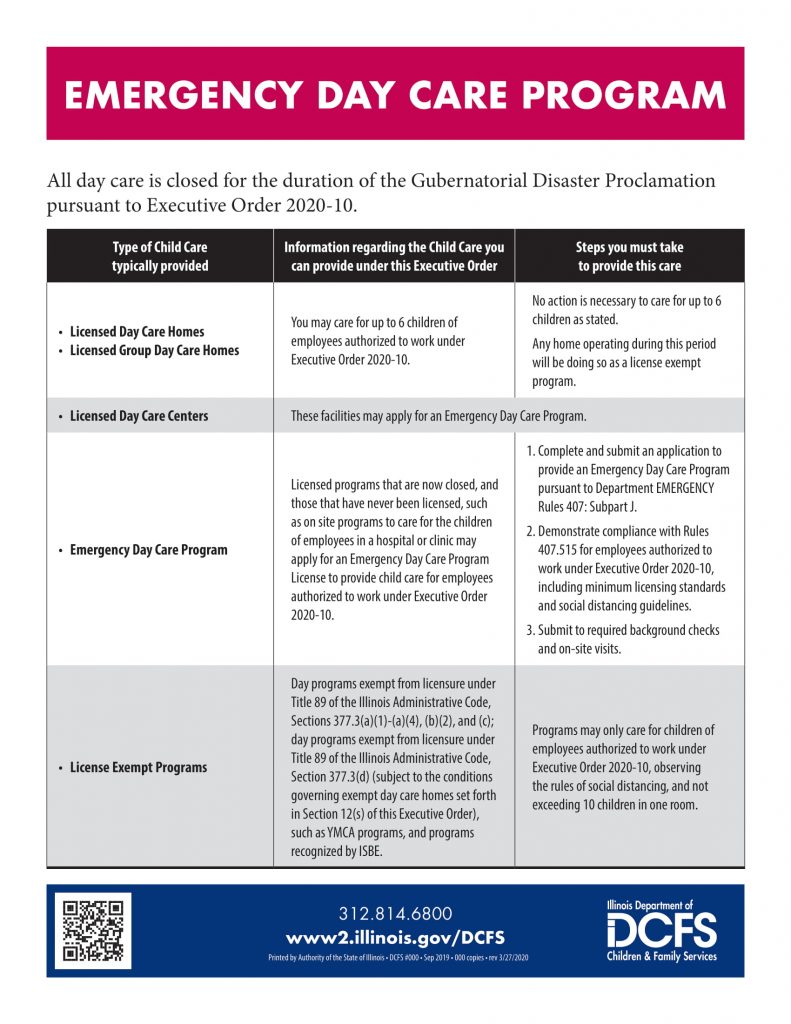 PETS AND COVID-19 (ADVICE FOR PET OWNERS)
The Illinois State Veterinary Medical Association has put together a page for advice for pet owners and veterinarians here.
OUTDOOR RECREATION
State parks will be closed during the Stay at Home order. Families will still be able to go outside, including to local parks and outdoor spaces that remain open, and take a walk, run, or bike ride but should continue to practice social distancing by remaining 6 feet away from other people. Playgrounds are closed because they pose a high risk of increasing transmission.
The Department of Commerce and Economic Opportunity (DCEO) reiterated recently that all golf course operations, including the golf course itself, have been determined to be non-essential in accordance with EO 2020-10, specifically with reference to Section 1 (3).
HUNTING AND FISHING ALLOWED- As long as our sportsmen and women are fishing or hunting at a site which is currently open (State Parks, Fish and Wildlife Areas, Recreational Areas, and Historic Sites are currently closed) and they have the appropriate licenses and permits, they may continue to hunt and fish during the stay at home order, according to the Illinois Department of Natural Resources.
SITE-SPECIFIC REFUNDS – At this time (March 28, 2020), IDNR has not have administrative rules allowing for refunds of site specific permit fees already paid, even if those permits cannot now be used. This applies, so far, to site specific Turkey Hunting Permits. While this is not yet resolved, please know many legislators are advocating for refunds of fees paid for these missed opportunities. Updates will be provided as available.
GOVERNMENT
The Secretary of State Office are closed through April 7, 2020, due to the COVID-19 outbreak. Expiration dates for driver's licenses, identification (ID) cars, vehicle registrations and other transactions are document filing will be extended by 30 days through an emergency rule. For available online services, please visit www.cyberdriveillinois.com. A list of frequently asked questions about SOS Facility closures due to COVID-19 can also be found here.
REAL ID DEADLINE EXTENDED. The REAL ID enforcement deadline has been extended beyond October 1, 2020. The new deadline for REAL ID enforcement is October 1, 2021. More information from the Illinois Secretary of State on the new REAL ID deadline can be found here.
State Parks, Fish and Wildlife Areas, Recreational Areas, and Historic Sites are currently closed.
The Office of the Governor is working closely with all state agencies to ensure essential services will continue to be provided, while taking steps to protect the health and safety of state workers.
The State Capitol Building, Stratton Office Building (Springfield), Howlett Building (Springfield), and the James R. Thompson Center (Chicago) will be closed to the public until further notice. The essential government functions that the people in this building perform will continue during this time. Elected officials, essential State of Illinois employees and credentialed members of the media will be allowed to enter Capitol Complex buildings.
LOCAL GOVERNMENT
Executive Order 2020-07, issued on March 16, suspends the Open Meetings Act provisions relating to in-person attendance by members of a public body.
Public bodies may choose to postpone or cancel public meetings and are encouraged to do so if they expect over 50 attendees. If a large meetings does need to occur, preventative steps are encouraged to promote social distancing.
Freedom of Information Act – Public bodies are encouraged to continue to comply with FOIA and respond wit each request promptly, to the extent they are able to, given the limitation on staff and resources during this time. FOIA extensions are allowable and requestors are encouraged to work with their local government to agree on reasonable and appropriate response times.
LOCAL GOVERNMENT REVENUE UPDATE (03-25-20)– There is no expected delay in distribution of sales tax revenues due to workforce changes in response to the COVID-19 pandemic. However, the recent sales tax relief provided to eating and drinking establishments will delay collections from those businesses, which translates into a delay in distributions of those sales tax revenues to local governments. The recent decrease in fuel prices will result in a reduction in sales tax revenues from this commodity, which may negatively impact distributions to local governments. While sales at grocery stores and pharmacies have increased, it's important to keep in mind State and local governments derive no little to no tax revenues from food nor medicine.
BUSINESSES AND WORKPLACES
Illinois Executive Orders require Illinois residents to stay at home except for the purpose of obtaining essential needs. The orders went into effect March 21 and last through April 30. The order directs all residents to remain at their place of residence, except to conduct essential activities. All businesses, other than essential businesses and essential government functions, are required to cease all operations. All public and private gatherings of any number of people occurring outside a single family or living unit are prohibited.
The order directs all residents to remain at their place of residence, except to conduct essential activities. All businesses, other than essential businesses and essential government functions, are required to cease all operations. All public and private gatherings of any number of people occurring outside a single family or living unit are prohibited.
For those who work at essential businesses, we encourage employers to take proper precautions to keep individuals safe in the workplace. This includes reminding staff to stay home when sick or with a fever; considering a plan for teleworking where feasible; remaining flexible on leave policies; and promoting robust mitigation approaches, such as hand washing, cleaning, and offering hand sanitizer.
PROFESSIONAL LICENSURE– The Illinois Department of Financial and Professional Regulation has developed a list of resources, variances, and deadline extensions for Illinois licensees and consumers impacted by the Coronavirus Disease 2019 (COVID-19) here.
GROCERIES
There is plenty of food if everyone practices common-sense and return to normal shopping patterns. As an example, if you shop on Thursday for the following week, then shop on Thursday and get what you need for the following week. Not for the next three weeks.
There is ZERO need for hoarding. Hoarding is creating a problem that doesn't need to exist. Even in countries that have imposed in-home quarantines, people have been allowed free access to necessities. Simply practice good hygiene and social-distancing when you shop – things we should under any circumstance.
In collaboration with the Illinois Retail Merchants Association, grocery stores will take added precautions to make visits safer for customers, including reminding customers of 6-foot social distancing requirements, shield guards in front of cashiers, prohibiting reusable bags, and encouraging cashless and self-checkout purchases.
Many grocery stores have set special hours for seniors and vulnerable population to purchase groceries due to COVID-19. A list of those special hours is maintained by the Illinois Retail Merchants Association here.
RESTAURANTS & BARS
Gov. JB Pritzker has ordered all state bars and restaurants to close for in-building service on Tuesday, March 17 and not reopen until further notice.
Restaurants will still be able to provide drive-thru, curbside, delivery or take-out/carry-out (i.e. go in, order, pay, obtain food, and leave immediately).
Resources for Restaurants & Bar Owners:
YOU ASKED, SO WE GOT ANSWERS! Can bars and restaurants seek authority to sell pre-mixed drinks/cocktails "to-go" and for "delivery" in the non-original packaging? The Illinois Liquor Control Commission released a reminder that, for reasons stated herein, the Commission has not authorized the sale of premixed cocktails in non-original containers for off-premises consumption. For the complete release, click here.
VULNERABLE POPULATIONS
The State and the City continue to focus outreach efforts for those most vulnerable to severe illness from the coronavirus, our elderly and immunocompromised residents.
Individuals who fall into these categories should take extra caution when attending gatherings of any size and avoid exposure to large groups of people whenever possible.
The State has implemented new staffing procedures and strict guidelines restricting visitors at state-operated long-term care facilities and is also working closely with private nursing home and assisted living associations on the adoption of similar guidelines.
The CDC has published specific advice for people at higher risk and vulnerable populations here.
SENIORS– The Illinois Department on Aging announced a halt to group services and hosted social interactions – increasing one on one services. In-home serviced and home delivered meals will not be interrupted. IDOA is activating the state's volunteer network to help assist in the efforts. If you know any senior that needs assistance then please visit The Illinois Department on Aging website.
Congregate Living Facilities (Staff Masking)– Until further notice, IDPH recommends that congregate living facilities serving vulnerable populations (a skilled nursing facility, an assisted living facility, a group home, a homeless shelter, or a correctional setting) implement a universal-masking policy requiring all staff to wear a mask when working. This includes staff responsible for direct interaction or care involving residents as well as staff who do not normally interact directly with patients and residents, such as administrative, dietary, environmental services, and facility maintenance staff. Universal masking will reduce the risk of transmission from staff who may be carrying SARS-CoV2 but are asymptomatic. In addition, face masks are widely used as an important part of droplet precautions when caring for patients with respiratory infections.
Community Day Services (CDS)– All CDS sites were closed March 17. This includes day programs, day training programs, sheltered workshops, and/or any other day site serving individuals with intellectual and developmental disabilities (I/DD) funded by the Division.
Community Integrated Living Arrangements (CILA)– DHS understands that CDS closure will require additional staffing in our CILAs. DDD will be adjusting all award letters to provide 24 hour support for all individuals effective March 17, 2020 through April 30.
45 Department of Rehabilitation Services will close until April 30.
14 Family and Community Resource Centers (FCRCs) throughout the State will remain open but with reduced staff to allow social distancing, while more than 60 FCRCs will close to the public beginning March 30. Many other staff will work remotely during this time. FCRCs are the public facing benefits offices that bring nutrition and medical supports to individuals and families across the state. Critical nutrition benefits are still available online, by phone, and in person for emergency situations. A map showing the 14 still-open FCRCs can be found here.
TRANSPORTATION
NON-COMMERCIAL– All Illinois roads and bridges are OPEN and are not expected to close for local or through traffic except for planned maintenance and construction projects, which are allowed to continue as an exemption to the Governor's Stay at Home Executive Order.

YOU ASKED, SO WE GOT ANSWERS— Does the Stay-at-Home order include travel for non-custodial parents? Executive Order 10 permits travel across state lines for essential purposes, including taking care of children and other relatives.

COMMERCIAL– In order to increase the flow of goods and ensure supply chain demands can be met, the Illinois Department of Transportation has been ordered to increase truck weight limits on Illinois roads to 88,000 pounds (currently 80,000 pounds) for a 5-axle vehicle of 10 percent above the legal load for vehicles with fewer axles. Additionally, the Governor has waived all overweight fees for the transportation of emergency relief and supplies. Increased weight limits and fee waivers expire April 12, 2020.

Vehicle Emissions Testing Stations Temporarily Closed– The Illinois EPA will temporarily suspend vehicle emissions testing, including at all centralized and decentralized inspection station locations. This suspension is effective Saturday, March 21, 2020, through April 7, 2020, and may be extended depending on circumstances. The Illinois Air Team Call Center will remain open and available to address motorist emissions testing inquiries. Motorists with questions may call 844-258-9071 Monday through Friday from 8:00 AM to 6:00 PM and Saturday from 7:30 AM to 1:00 PM or visit the Illinois Air Team website at http://illinoisairteam.net.

MEAL DELIVERY– UberEats has made the decision to waive the delivery fee for independent local restaurant food delivery, through the popular food delivery app. The company is also offering "contactless deliveries" to limit exposure between individuals.
CONSUMER PROTECTION
The Office of the Illinois Attorney General is taking action against reports of price gouging on critical products tied to the pandemic. Consumers should report instances of unfair practices to the Attorney General. The Office also warns against COVID-19 marketing scams. Complaints can be filed here.
GENERAL ASSEMBLY
Legislative session cancelled until at least March 31. Due to concerns over the potential spread of COVID-19, the Illinois General Assembly has cancelled the session days planned until at least March 31. The deadline to pass bills through Committee has been extended until Friday, April 3.
ACTIVITIES FOR ADULTS WHILE SOCIAL DISTANCING
CENSUS
Complete the 2020 Census Online. Illinois residents can now complete the census questionnaire online at my2020census.gov. Completing the census online will ensure that Illinoisans get both the representation and federal funding for the critical services that they deserve,

The online questionnaire is the quickest and easiest way to get counted in Illinois and can be accessed from a smart phone, tablet, laptop, computer and terminals at local libraries. The census is nine questions long and will take less than 10 minutes to complete.

An accurate count of Illinois' population is essential to ensure the State receives the funding needed to properly care for its residents and provide critical services and programs. In 2015, Illinois received $19,738,866,367, or approximately $1,535 per capita, in federal assistance for sixteen programs. Failure to count every Illinois resident will have devastating effects on Illinois' ability to meet the needs of its residents. Even a one-percent undercount would result in the loss of $19,557,435 per year, for a decade, resulting in a total loss of $195,574,350 for the State of Illinois. Additionally, the number of seats Illinois has in the U.S. House of Representatives for the next 10 years will be determined by the census count this year. Illinoisans deserve proportionate representation in the U.S. Congress, and a fair and accurate census count is how we ensure that happens.