FOR IMMEDIATE RELEASE
June 23, 2023
CONTACT: Miller@ilhousegop.org
In One Year – Planned Parenthood Illinois sees 54% Increase in Abortions
Charleston, Illinois: Tomorrow pro-life Americans around the country will celebrate the one-year anniversary of the Dobbs decision, which ended Roe v. Wade after nearly 50 years and returned decision-making on abortion back to the states.
Following the Supreme Court decision, numerous states enacted laws to limit abortion, including almost every state bordering Illinois. In anticipation of the eventual overturning of Roe, Planned Parenthood has been opening abortion businesses in towns along the Illinois border since 2018. This map shows abortion sites that have opened (not all Planned Parenthood) within the last five years and two more that are in the works.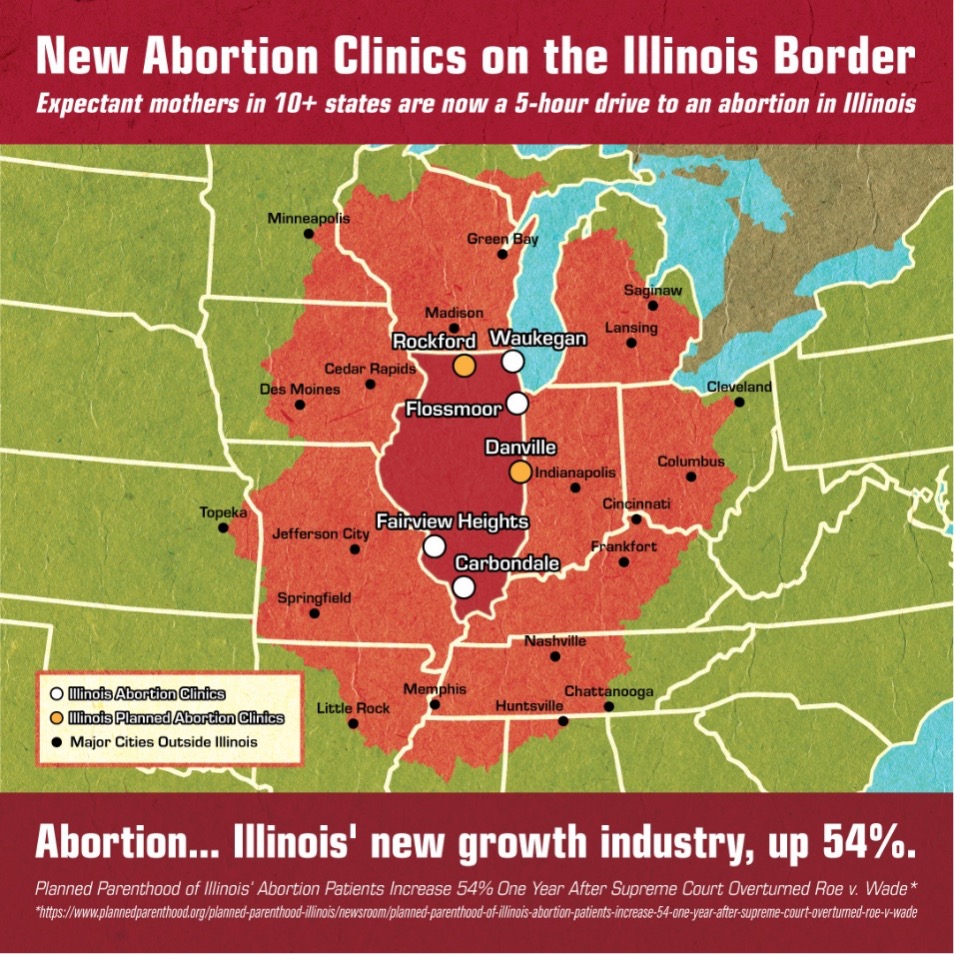 In a recent interview Planned Parenthood Illinois noted that abortions are up 54%, that out of state clients are up 25%, and that the number of abortions performed after 16 weeks has also increased. Abortions after the first trimester are more complicated and dangerous, and more profitable for the abortion industry.
State Representative Chris Miller responded to the above news saying, "We have a lot to celebrate one year after the Dobbs decision. An estimated 25,000 babies have been saved from abortion because of the vigilance of the pro-life community for 50 years. I am thankful for the pro-life activists that continue to work to help women in crisis pregnancies choose life.
Unfortunately, in Illinois, the response to limits on abortion in other states has made our state, with its very permissive abortion laws, a destination for women seeking an abortion. It is not a growth industry we should be proud of and we must double our efforts to reach out to women in need.
Appallingly, every year Illinois Democrats find more ways to make taxpayers fund the killing of babies. Included in this year's budget is $18 million for an abortion hotline and training program that will make it easier for women to get an abortion in our state. Democrats in this state also passed SB1909 which aims to shutdown pro-life pregnancy centers by criminalizing their speech and outreach to women. The Democrats prove with their actions that they oppose both a women's right to choose and oppose life.
I will always defend the life of the unborn and work to help women choose life."
###