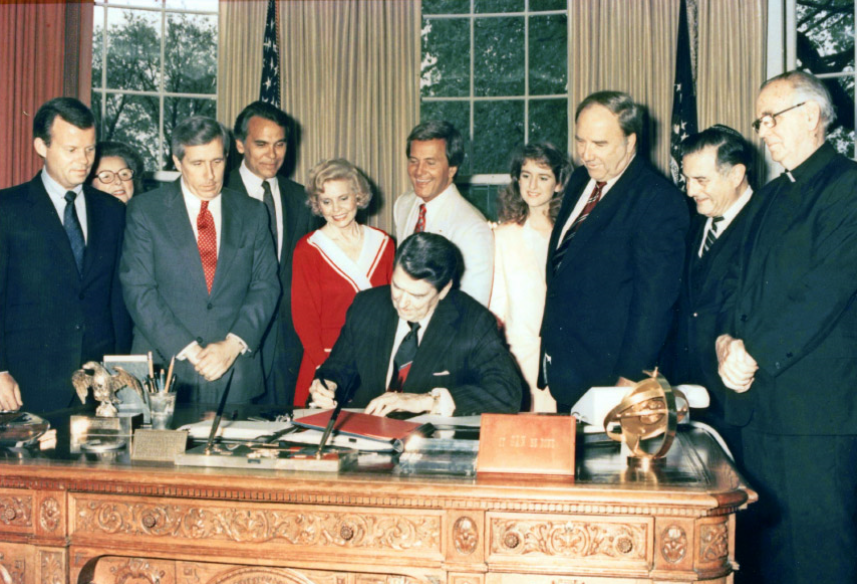 The National Day of Prayer is an annual observance held on the first Thursday of May, inviting people of all faiths to pray for the nation. It was created in 1952 by a joint resolution of the United States Congress, and signed into law by President Harry S. Truman.
The Task Force is a privately funded organization whose purpose is to encourage participation on the National Day of Prayer. It exists to communicate with every individual the need for personal repentance and prayer, to create appropriate materials, and to mobilize the Christian community to intercede for America's leaders and its families. The Task Force represents a Judeo-Christian expression of the national observance, based on our understanding that this country was birthed in prayer and in reverence for the God of the Bible.
Some of the key dates to remember about the history of the "National Day of Prayer" include:
1952: On April 17 a bill initiated by Mr. Conrad Hilton of Hilton Hotels and Senator Frank Carlson of Kansas was passed (Public Law 82-324) that the President of the United States was to set aside an appropriate day each year, other than Sunday, as a National Day of Prayer.
1979: The National Prayer Committee is officially formed. Today there are 18 members on the NPC Executive Board. Federal EIN: 75-1914068, Exempt 501 C3
1981: Businessman Joe Mays (Religious Heritage of America), David Bryant and the NPC group meet to cast the first vision for the National Day of Prayer. Contacts were made with the Public Liaison office of the White House to begin planning efforts.
1983: The first National Day of Prayer observance, organized by the NPC, takes place at Constitution Hall in Washington D.C. with featured speakers Vice President George Bush and Dr. Lloyd Ogilvie.
1986: Vonette Bright and the National Prayer Committee contact Senator Strom Thurmond (R) for guidance on writing a bill that would designate a day for the National Day of Prayer
1987: Senator Thurmond writes the bill then introduces it to the Senate Judicial Committee. It became bill S.1378, which would amend public law 82-324
1988: Rabbi Haberman and Rabbi Tanenbaum express their support of the bill.
1988: Thursday, May 8 – Ronald Reagan signs into law Public Law 100-307 the designation of the first Thursday in May as the annual observance for the National Day of Prayer.
2016: Millions observe the 65th Anniversary of the National Day of Prayer and Shirley Dobson's 25th year as Chairman. Shirley Dobson passes the baton, and Anne Graham Lotz accepts the role as Chairman of the NDP Task Force.